Organizational Chart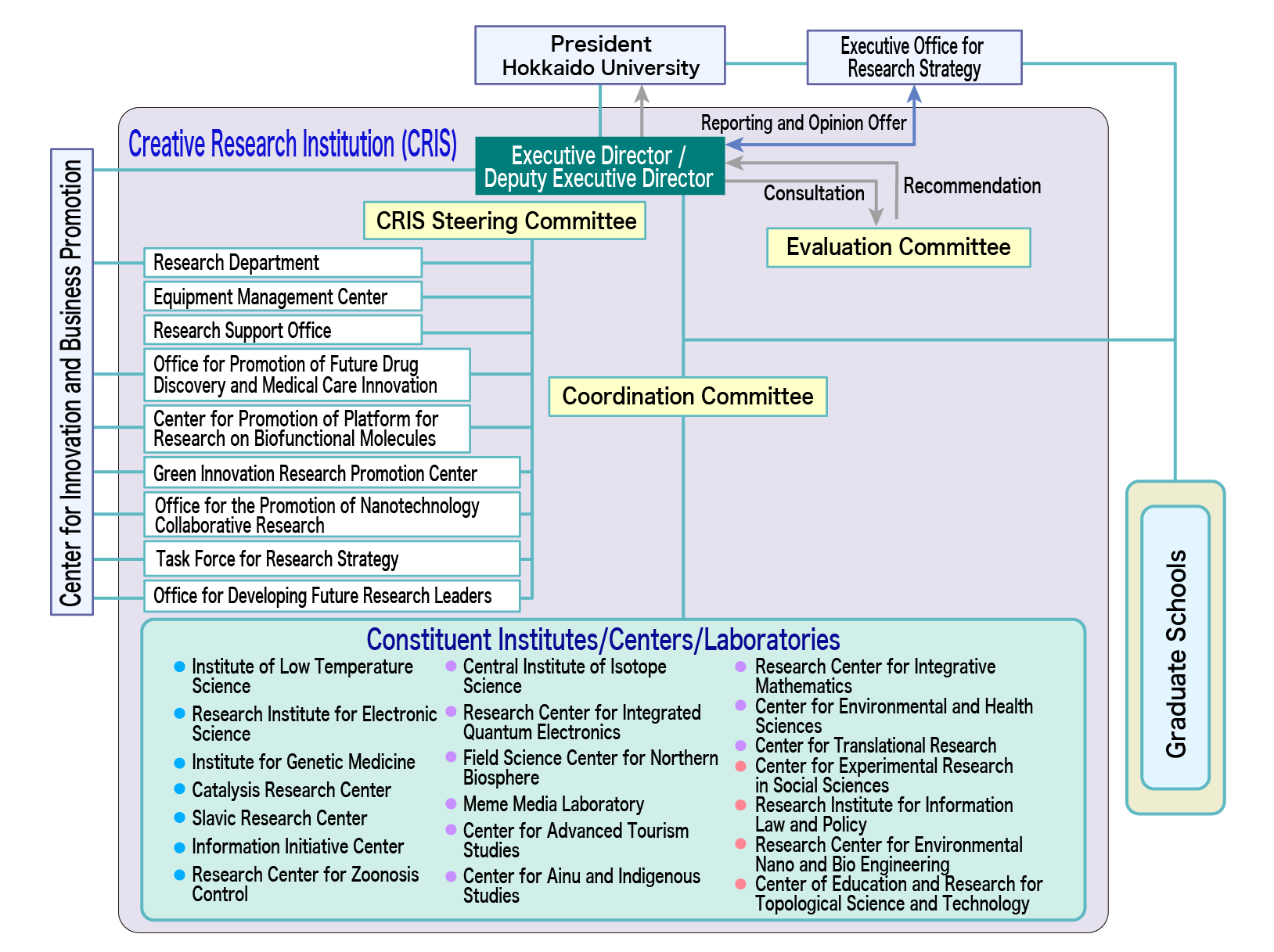 Outline of CRIS's Organizational Units
CRIS develops and promotes research projects in accordance with the research strategy of Hokkaido University. Through University-wide planning, it helps extend R&D programs into spheres of activity beyond those of existing educational and research departments. As a management organization, CRIS is organized into several units with designated functions and is equivalent in status to other executive offices and management centers in the University.
Evaluation Committee
Composed of a majority of external experts, this committee in consultation with the CRIS Executive Director evaluates the research and management performance of the constituent organizations (research institutes affiliated with the University, national-level joint-use facilities, and University-wide joint educational and research facilities). It evaluates each organization with a Mid-term Evaluation in the 3rd year and a Term Evaluation towards the end of each medium-term goals period. The committee reports evaluation results to the University President for a decision on the organization's fate during the next medium-term goals period.
Steering Committee
This Committee considers matters such as organizational structure, personnel, budget allocation, and work planning related to CRIS's Research Department, Equipment Management Center, and Research Support Office.
Coordination Committee
This Committee coordinates CRIS's constituent research organizations (targets of the Evaluation Committee), provides them with information on the University's research strategy, and facilitates bottom-up discussions on research agendas.
Research Department
This department performs research-related functions previously undertaken by the former Creative Research Initiative "Sousei" and supports University-wide, trans-disciplinary scientific research.
Research Support Office
To identify novel priority research themes, the Research Support Office helps acquire funds for collaborative research projects, and coordinates funding agencies and collaborating organizations.
Equipment Management Center
This Center integrates and consolidates instrumental analytical services (formerly offered University-wide by the Center of Instrumental Analysis) and shared-use equipment and laboratories (the Open Facility of the former CRIS).
Task Force for Research Strategy
This unit aims to strengthen the research strategy & planning and research support functions at Hokkaido University. Under direct supervision of the Executive Office for Research Strategy, it strives to create efficient research environments through various activities, from supporting individual researchers to reinforcing the R&D management system, in order to build a globally competitive research promotion system at the University.